NC Wallet — the world's first commission-free wallet
Make your cryptocurrency experience safer and easier with NC Wallet! Receive, exchange, and keep your funds with the ability to withdraw them without commission. Let it be the safest space to control your funds and enjoy the first-ever commission-free wallet!
It takes a moment to create the wallet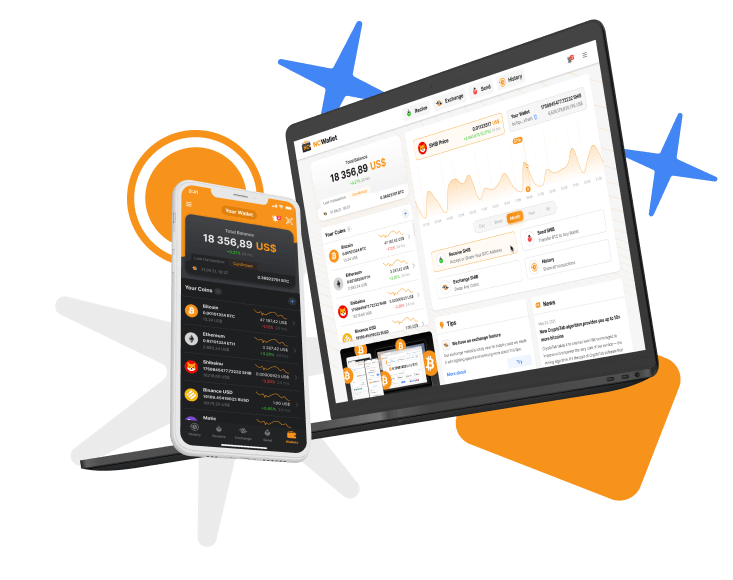 Reasons to use NC Wallet
No commission, high level of security, and easy-to-use service as well as a variety of supported cryptocurrencies make it a great wallet for both beginners and experienced users
Protection of your savings

NC Wallet is a wallet that goes beyond standard security and safety measures. Be assured that your funds are fully protected with a multi-factor transaction confirmation system.

No commissions and transaction fees

Send, exchange, and withdraw crypto for free! NC Wallet is the first wallet that allows you to withdraw cryptocurrency without paying network fees.

No withdrawal minimum

There are no transaction limits. Manage your cryptocurrency the way you want, enjoy a convenient system.
CREATE WALLET
Supported Currencies
With NC Wallet you can store, receive, exchange, and withdraw major cryptocurrencies such as Bitcoin (BTC), Ethereum (ETH), Tether (USDT), and many others. New blockchains and cryptocurrencies are being added — stay tuned.
Bitcoin
BTC
Etherium
ETH
USDT
USDT
Access your NC Wallet anywhere
Use the wallet on mobile devices — manage your savings on the go anytime you want! Just install NC Wallet on your phone or tablet and access all its features. Super simple and fast!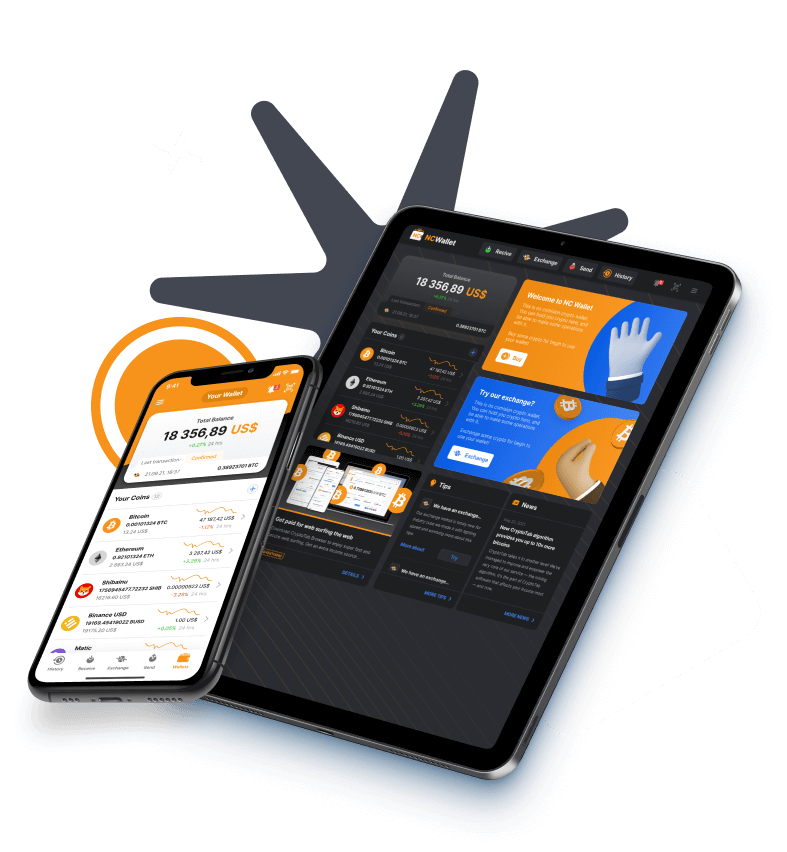 Stay up to date with the updates and explore all the features of NC Wallet: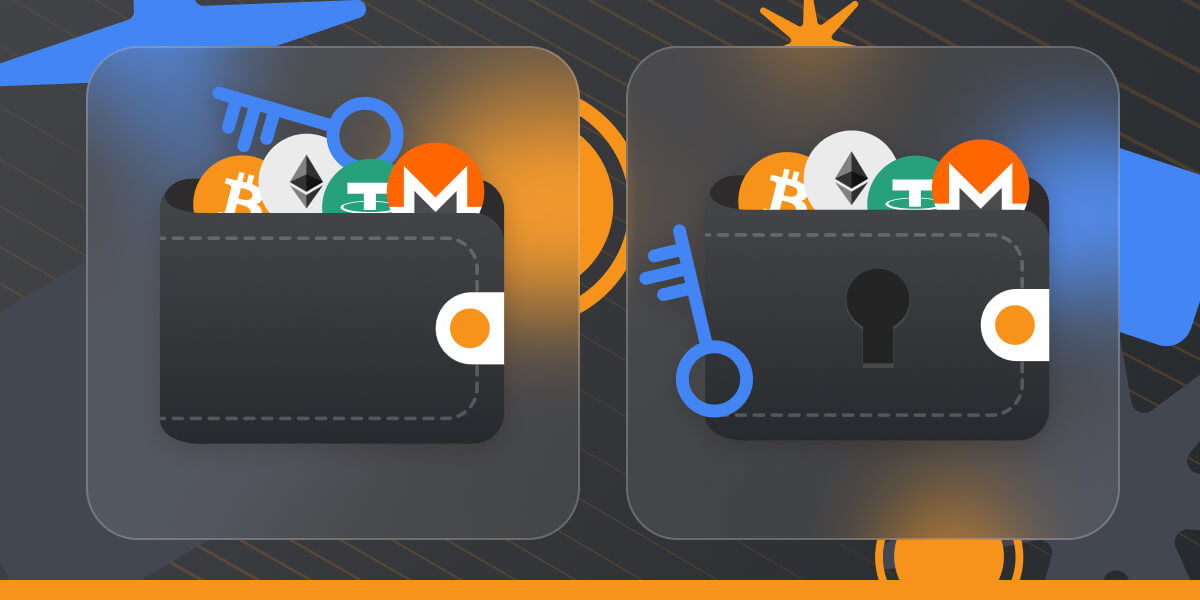 To start working with cryptocurrency, you first need to understand, "What crypto wallet is right for me?" But when reading about them, many understand that the choice is not as simple as it might seem. So, let's take a closer look at what kinds of wallets are there and which one is right for you.
In general, the first thing you find when reading about cryptocurrency wallets is that there are two types of them: custodial and non-custodial:
1
With a non-custodial wallet, all "private keys" — a string of letters and numbers like a password that allows you to access and manage your crypto funds — require a user to remember them and be fully responsible for their safety.
2
As for a custodial one, wallet storage companies help an owner keep the private keys safe — even if they are lost, the company help restore them back.
Both types of wallets provide users with a wide range of benefits:
Non-Custodial Wallet
Complete control of private keys;
Various forms, even a USB storage device;
Self-control of all transactions.
Custodial Wallet
No need to worry about losing private keys;
If they are lost, you are always helped to restore them back;
Usually needed for trading on the most popular crypto exchanges;
Accessibility on all devices (mobile, PC) and browsers;
Designed by specialists to make its interface intuitive — send, receive, and exchange crypto in a matter of seconds.
Many large companies provide wallet services to their users. In each of the types, many well-known names can be called: for non-custodial ones, for example, MetaMask, Coinbase Wallet, and others. As for custodial wallets, we can name Binance, BitMex, and, of course — NC Wallet.
So, the question is: How to choose what wallet to use?
More and more people nowadays want to join the crypto industry and start working with currency themselves. Thought reading about and dealing with private keys may be way too complicated, especially for beginners. That is why custodial crypto wallets are particularly common and popular — they help make interactions with wallets simple and accessible for users of all experiences so that everyone can keep funds as well as make any kind of transactions with them at ease.
Connecting wallet to social media accounts helps you forget about any kinds of worries — no matter what you are able to regain your access to the assets.
However, if you decide to try another type of wallet, you can always do that. After all, it all comes to what suits you the most!
Published: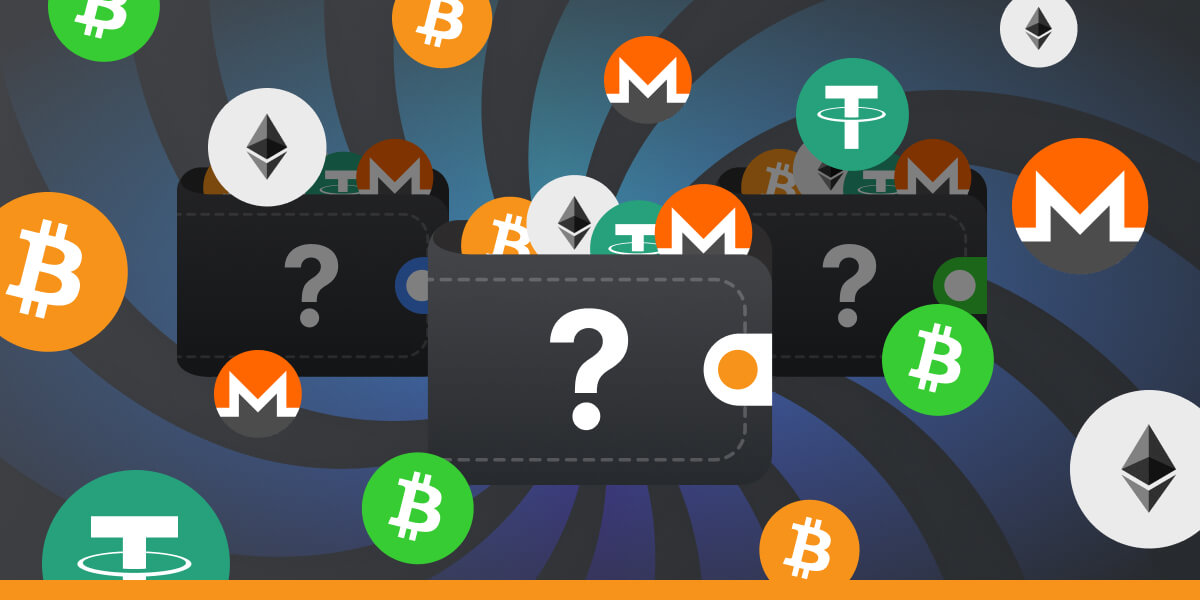 Thinking about joining the crypto industry but not sure where to start? One thing for sure — you will need a good cryptocurrency wallet. And if you are not sure how to choose one, this article is for you: here we will discuss what you need to do to make the right choice and find the best wallet for you. Let's dive in!
When you are looking through your wallet options, ask yourself 4 simple questions:
1
What cryptocurrencies am I going to store?
There are a lot of different cryptocurrencies out there so it is essential to think about which one you want to work with. Though, if you are still unsure or think you may change your choice later, many of them support various currencies so the wallet that supports all major ones (BTC, ETH, Tether, etc.) would be perfect for you.
2
Is the wallet convenient enough for me?
Convenience is a major thing in a wallet, after all, you have to work with it and perform various actions to manage your funds. Is the interface understandable? Can I use the wallet on my phone and PC? Is it available on all platforms? — all that and more are important to consider and a good wallet should provide you with all those features.
3
Will my funds be well-protected?
The "perfect wallet" should keep your assets secured! So, look whether it has all important measures of safety and you can be sure that nobody can touch your funds without permission.
In a wallet, you may look for: two factor as well as biometric authentication, notifications of any actions with your savings, and much more.
4
What about commissions?
Transactions require fees to be completed so many wallets have commissions for withdrawals of cryptocurrency. Here you should just choose network fees you consider reasonable — or you can forget about those payments and use new NC Wallet, the first commission-free wallet! Manage your assets exactly the way you like!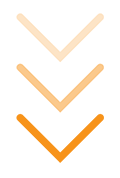 LEARN MORE
If you go through all the questions and realize that the wallet fits all the criteria, congratulations — you found a perfect wallet for you! Now you can start and be sure of the safe throughout your crypto journey!
Published: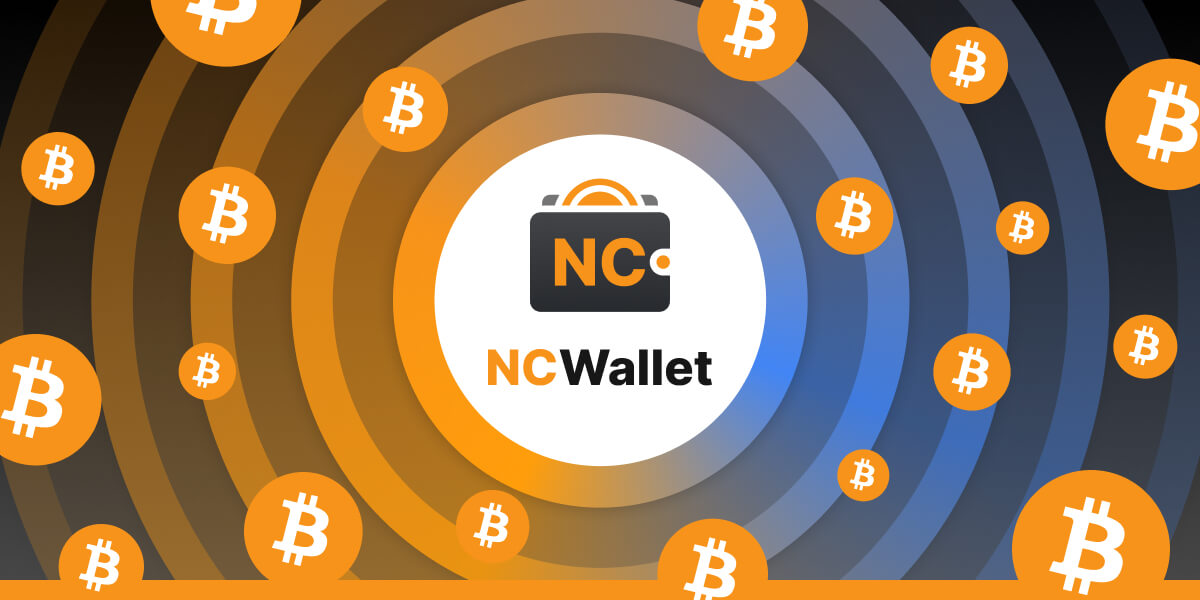 When it comes to mining and managing cryptocurrency, there is always a question of, "Where to store it?" The solution is here — brand-new NC Wallet — the first-ever commission-free wallet!
Designed for the convenience of use NC Wallet is equipped with various features to make it easy to use for both beginners and experts of the crypto world: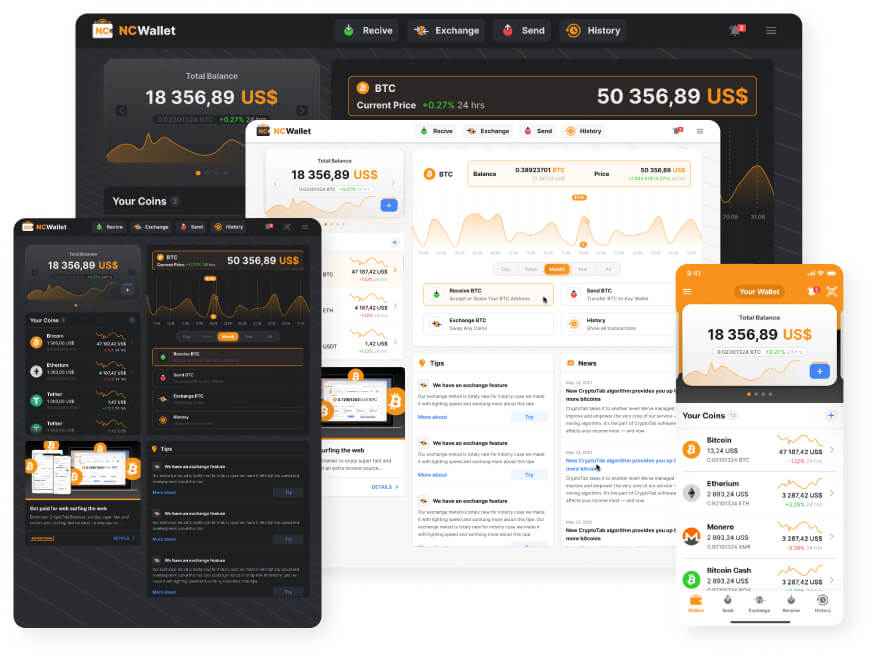 Intuitive interface makes it simple to use and perform any action in a matter of seconds: no misunderstandings and confusion — know exactly what you are doing!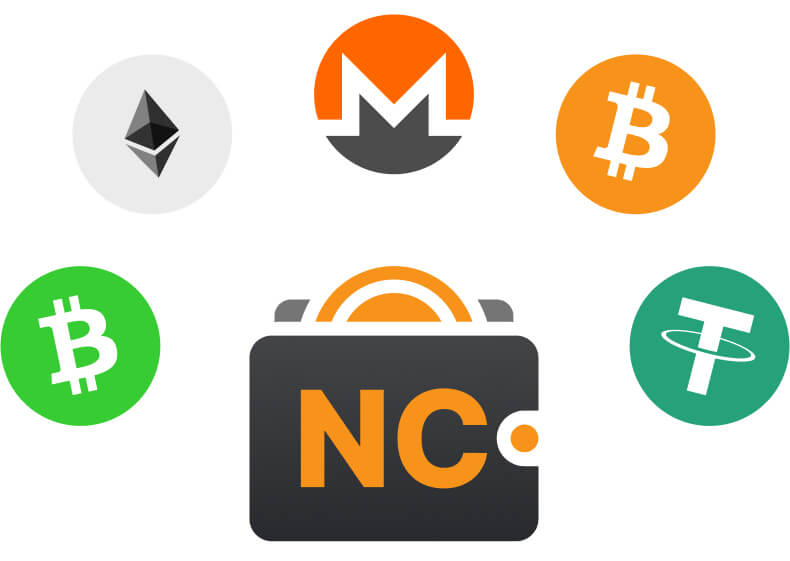 Send, store, exchange, withdraw, or make purchases in major cryptocurrencies with ease!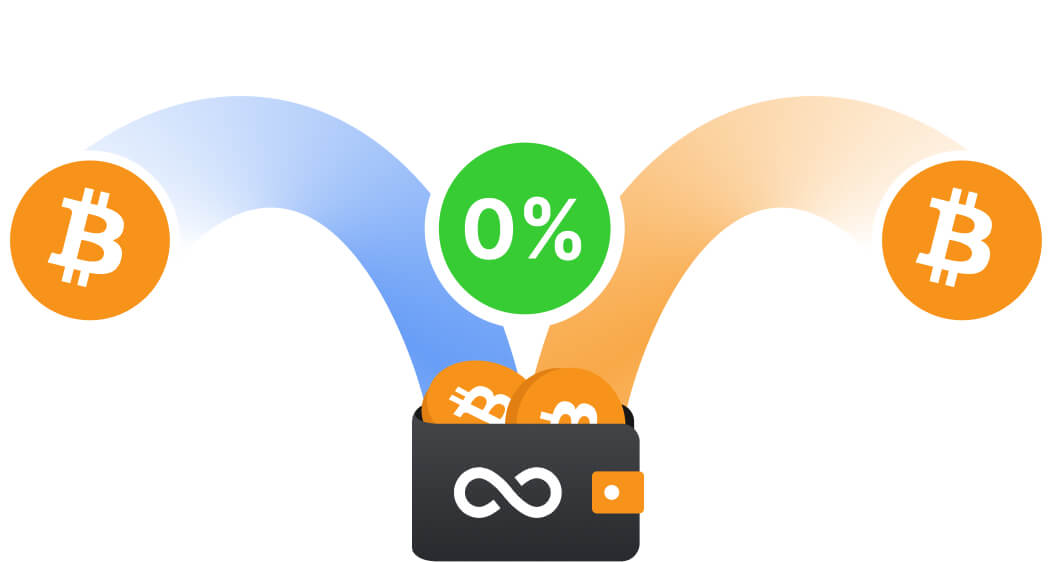 Say goodbye to additional costs. With no commission option, withdraw and make purchases in crypto at no cost!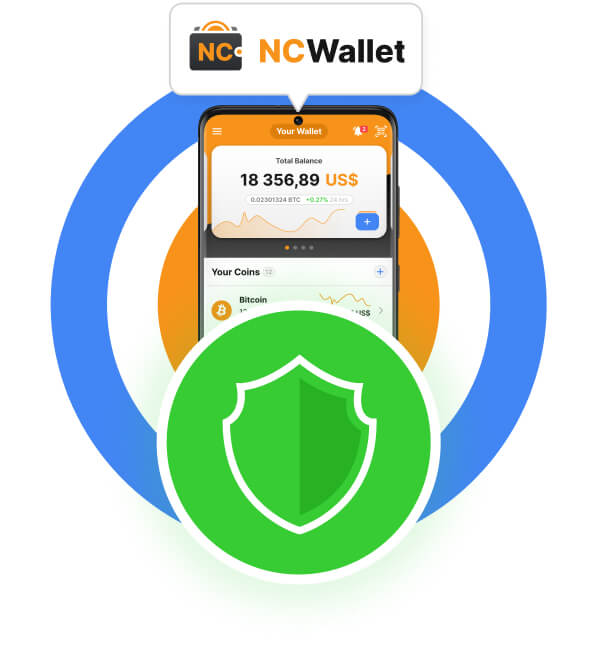 Rest easy — everything is under the control of the wallet's top-level security. Manage your crypto and be notified of any action in your wallet!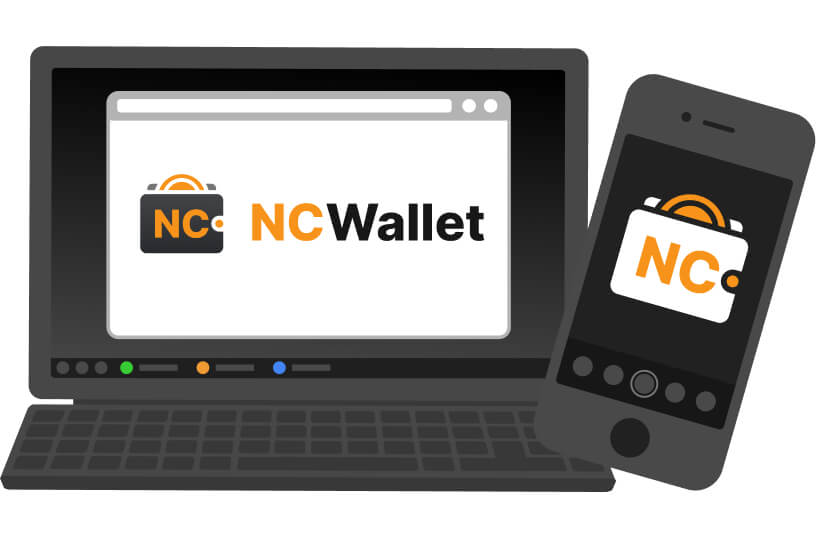 And what's more, NC Wallet is available on any device! At home, outside, or travailing — always have access to your funds!
Manage your assets smartly and let an innovative NC Wallet help you with that! Start your crypto journey accompanied by the wallet you can trust!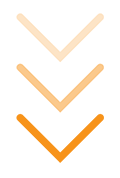 NC WALLET
Published:
A truly secure wallet for all your devices
Start your crypto journey and be sure that your funds are under the guard of NC Wallet!
CREATE WALLET

Any questions about NC Wallet?
Please check our
FAQ
or contact our
support team
— we will be happy to help you!
View all frequently asked question